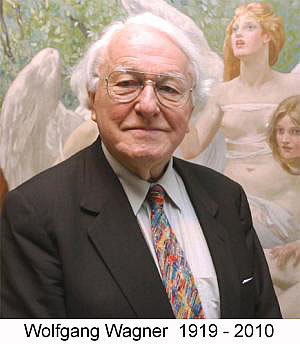 For the first time since 1951, the Bayreuth Festival will open without the presence of Richard Wagner's grandson Wolfgang Wagner, who died in March earlier this year.
After World War II, The Bayreuth Festival reopened in 1951 with brothers Wieland and Wolfgang Wagner at the helm of a new Bayreuth. Their famous post-War productions, chiefly directed and designed by Wieland, brought an innovative new style to Wagner staging, which eventually became known as "New Bayreuth." After Wieland's untimely death in 1966, Wolfgang took over the reins of the institution, leading the yearly summer festival until his retirement in 2008.
This summer, the 2010 festival remembers the life and legacy of Wolfgang Wagner by bringing to the Green Hill a new production of Lohengrin, directed by Hans Neuenfels, with sets and costumes by Reinhard von der Thannen. This new production, which will premiere on July 25, 2010, will be conducted by Andris Nelsons.